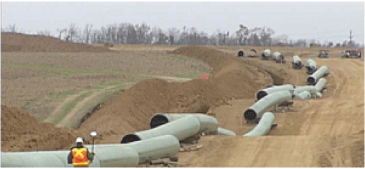 Tallgrass
Energy
Leawood, KS
Exited
2012
Tallgrass Energy is a growth-oriented midstream energy company operating across 10 states with transportation, storage, terminal and processing assets that serve some of the nation's most prolific crude oil and natural gas basins.
Highlights
Partnership Aspects That Led Sourcing of Transaction
Kelso evaluated the assets with multiple strategic partners during Kinder Morgan's FTC-mandated divestiture of certain pipelines and other midstream assets prior to working with Tallgrass.  We worked closely with our KSN members, many of whom had direct experience previously operating the assets, to identify the opportunity and develop an understanding of the value of the midstream asset portfolio.  As a result, we were able to give management confidence that Kelso was the right choice when securing a financial partner and negotiating the transaction.
History of Success in Midstream Sector
Our deep experience in the energy sector, specifically our strong track record in midstream, along with the experience of our KSN team, gave us the insights and confidence to pursue this very large acquisition, which required a differentiated perspective on the potential of its key assets. 
Substantial Upside To Be Unlocked Under New Ownership
Management developed a unique perspective on the assets which was not apparent to all bidders in the process, including a large development project (Pony Express Pipeline) and a large asset repositioning (Rockies Express Pipeline).  Through our independent due diligence, we ultimately developed a similar perspective with management on the substantial upside embedded in the asset portfolio.
Partnership with a Highly Experienced and Respected Management Team
Management, led by CEO David Dehaemers, had a strong track record of successfully operating midstream assets and creating significant value for investors.  Our energy experience and perspectives aligned well with those of management as they searched for a financial partner.
Post Investment Highlights
Completed a ~$314mm MLP IPO just six months after closing the transaction, creating Tallgrass Energy Partners, LP (NYSE: "TEP").

TEP has recorded 17 consecutive quarters of distribution increases (every quarter since IPO)

Completed a ~$1.4bn IPO of its general partner, Tallgrass Energy Partners GP, LP (NYSE: "TEGP"), two years after the IPO of TEP. 

TEGP has recorded nine consecutive quarters of distribution increases (every quarter since IPO)

To date, Tallgrass Development has successfully completed ~$3.4bn of drop down transactions to TEP
TEP has completed over $1.4bn of third party acquisitions
Successfully completed multiple development / repositioning projects across the asset base, including:

Development of Pony Express, creating an approximate 320,000 bbl/d crude oil pipeline serving multiple production basins in the Rockies
Transformation to bi-directional gas flows in and expansion of Zone 3 on Rockies Express Pipeline, repositioning the pipeline as a bi-directional header system capable of serving producers and end markets from the Rockies to the Utica Shale in Ohio
Acquisition and development of Tallgrass Terminals, with over 3.5mm barrels of capacity across its systems
Kelso Team